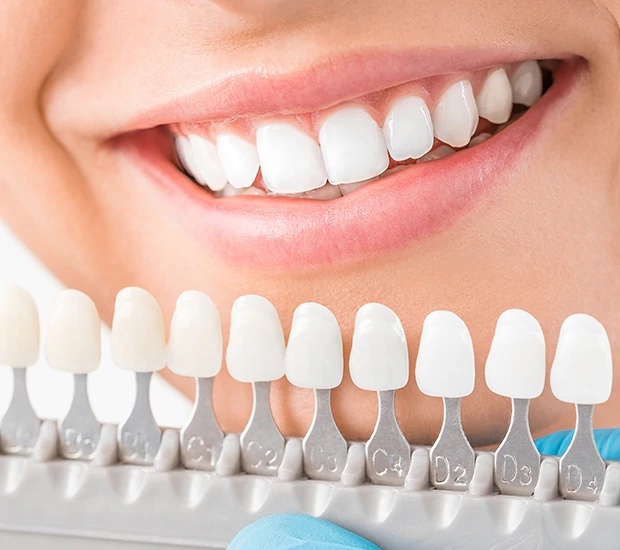 More people seek treatment from cosmetic dentists than ever before to get the smile they have always wanted. From straightening crooked teeth to brightening yellowed ones, cosmetic dentists can enhance people's smiles through various procedures. A cosmetic dentist performs a range of treatments to improve the appearance of the teeth, gums, and bite.
Cosmetic dentistry is available at Fort Lauderdale Dental Studio in Fort Lauderdale and the surrounding area. With new techniques and advanced technology, our team can help you achieve a more beautiful smile. Call us today to learn more about our services or schedule an appointment.
Reasons to See a Cosmetic Dentist
Many people decide to see a cosmetic dentist to enhance their smile before a special event, such as a school dance or a wedding. Cosmetic dental treatments can benefit anyone who wants to improve their smile's appearance, regardless of the occasion. People with various cosmetic issues, such as crooked, discolored, uneven, cracked teeth, can benefit from seeing a cosmetic dentist.
People with crooked teeth may feel self-conscious about their smile. Fortunately, there are cosmetic procedures that can make teeth straighter and help people smile with confidence. As people get older, their teeth are more likely to stain and become more yellowed. While this discoloration is difficult to remove at home, a cosmetic dentist can lift stains and help teeth appear whiter and brighter. Cosmetic dentists can also help fix uneven teeth that vary in size and make them appear more uniform.
"Cosmetic dental treatments can benefit anyone who wants to improve their smile's appearance, regardless of the occasion."
Benefits of Cosmetic Dentistry
Cracked, crooked, discolored, and uneven teeth can impact people's confidence and self-esteem. It can influence their success in school and work roles, personal relationships, and mental health. According to one study, people's perception of their smile's appearance can remarkably affect their social and psychological well-being which is reflected in their behavior and can affect their self-confidence. Cosmetic dental procedures can enhance a person's appearance and help them smile and live more confidently.
Cosmetic dentistry can also translate into better oral health by addressing decay and overcrowding that hinders the cleaning of teeth and gums. Some procedures can strengthen teeth and protect against further deterioration. Other procedures, such as bonding, can help teeth become less sensitive.
"Cosmetic dental procedures can enhance a person's appearance and help them smile and live more confidently."
Treatment Options
Various procedures are available to choose from depending on the patient's needs and goals. People interested in receiving cosmetic dental treatment should have a consultation to learn about the available options. Our team will help determine the optimal treatment for each patient. Some common cosmetic dental procedures include:
Bonding: This treatment uses resin to repair chips and cracks, close gaps, or shape teeth. Bonding is an alternative to metal fillings when the patient wants the repair to be discreet. Once the resin is in place, a special blue light will harden the material.
Crowns: Crowns fit over the entire tooth. Filing of the natural tooth must occur to prepare a tooth for a crown. This filing leaves a "post" over which the crown sits when cemented into place.
Enamel shaping: Enamel shaping is also known as contouring and is a simple procedure. Polishing tools removes a bit of surface enamel to smooth out chips or unevenness. Shaping is a quick procedure that does not require numbing.
Gum reshaping: Gum reshaping is a solution for smiles that show a lot of gum. This procedure involves removing a small portion of gum tissue so more of the tooth is visible. Patients can have this procedure done on one tooth or several.
Teeth whitening: Patients have several options for teeth whitening. Teeth whitening can occur in the dental office or come in the form of custom-made trays. Both professional teeth whitening methods utilize peroxide-based teeth whitening agents to remove tooth discoloration.
Veneers: Typically made of porcelain, veneers are thin coverings made to custom-fit over teeth fronts and sides. The placement process involves buffing the teeth before cementing the veneers into place. Veneers improve the appearance of a smile while protecting the tooth's surface from damage.
"Various procedures are available to choose from depending on the patient's needs and goals."
Preparing for a Visit
Before taking the next step to a more beautiful smile, people must prioritize their oral health. It is crucial to have healthy teeth and gums since unhealthy ones can interfere with the procedure and results. People should also make sure to do their research about treatments and plan financially beforehand. It is essential to think about budget, lifestyle, and cosmetic goals before seeking treatment.
People should prepare questions for their consultation. The consultation allows people to ask any questions regarding specific treatment options, treatment candidacy, potential results, and more. Asking the right questions and taking mental or written notes throughout the consultation will help determine whether a specific treatment is right for them.
"It is essential to think about budget, lifestyle, and cosmetic goals before seeking treatment."
Questions Answered on This Page
Q. Why should someone see a cosmetic dentist?
Q. What are the benefits of cosmetic dentistry?
Q. What are some cosmetic dentistry treatment options?
Q. What should someone do to prepare for a visit with a cosmetic dentist?
Q. How can someone find the right cosmetic dentist?
People Also Ask
Q. When is a dental restoration necessary?
Q. What are the benefits of dental cosmetics?
Q. Why would someone want or need a complete mouth reconstruction?
Finding the Right Cosmetic Dentist
Choosing the right cosmetic dentist is essential to get the desired results. The first part of finding the right cosmetic dentist is to conduct research. Look at the dentist's background and training since advanced training and continuing education are essential for a cosmetic dentist. People should also look at past work and read online reviews that highlight the dentist's capabilities.
The consultation is a crucial opportunity for patients to meet with the dentist, get a feel for the office, and dive deeper into the cosmetic dentistry process. Ask questions to evaluate the dentist's skills and experience and determine if they are the right choice. Our team will address any questions or concerns to help people feel confident in taking the next step towards a more beautiful smile.
"Choosing the right cosmetic dentist is essential to get the desired results."
Frequently Asked Questions
Q. How long do cosmetic dental treatments take?
A. The length will depend on what treatment or treatments the patient has chosen. Some procedures are quick and can take one visit, while others are more extensive and may take several visits over weeks or months. Our team will provide patients with a more detailed timeline during their consultation.
Q. Do cosmetic dental treatments hurt?
A. Most cosmetic treatments are painless, such as whitening. Others can cause some discomfort, such as veneers and bridges. Our team is committed to keeping patients as comfortable as possible throughout their treatment.
Q. How long does teeth whitening last?
A. There is a wide range of teeth whitening options available. Professional bleaching results can last from six months to three years, depending on the treatment chosen. People can help their results last longer by taking care of their teeth and avoiding staining foods and beverages.
Q. What are the types of crowns?
A. Dental crowns can consist of many different materials. Some common options include porcelain, metal, resin, and ceramic. People interested in receiving a crown should discuss the available options with our team.
Q. How should I take care of my teeth after a cosmetic dental procedure?
A. Patients need to maintain proper oral hygiene after any cosmetic dental procedure. They should also follow all aftercare instructions to ensure optimal results. Regular dental check-ups are also an important part of maintaining healthy and beautiful teeth.
Dental Terminology
Allograft

An allograft is a graft of tissue from a donor within the same species as the patient that is not a genetic relative.
Alveolar Ridge

The alveolar ridge is the bony ridge for one of the jaw ridges located on the roof of the mouth or on the bottom of the mouth.
Autograft

An autograft is a graft of tissue from one portion of an individual's body to another.
Bleachorexia

Bleachorexia is when people continue to abuse teeth whitening solutions without consulting professionals, causing significant damage to their enamel and gums in the process.
Cap Splint

A cap splint is a plastic or metallic device that professionals may use to treat mandible or maxillary fractures and cover crowns of teeth.
Cosmetic Dentistry

Cosmetic dentistry is generally used to refer to any dental work that improves the appearance (though not necessarily the function) of a person's teeth, gums and/or bite.
Crown Lengthening

Crown lengthening is a surgical procedure that increases the extent of a tooth structure for restorative or esthetic purposes.
Dental Crown

A crown is an artificial tooth, usually consisting of porcelain, which covers the top of the implant to provide people with an aesthetically pleasing and fully-functional tooth.
Dentin Hypersensitivity

Dentin hypersensitivity is when the enamel wears down on the tooth enough that the dentin faces exposure and will cause great levels of pain when a person applies pressure to the tooth or drinks hot/cold beverages.
Dentist

A dentist, also known as a dental surgeon, is a doctor who specializes in the diagnosis, prevention, and treatment of diseases and conditions of the oral cavity.
Helpful Related Links